Our weather has certainly made a sudden change. Not to say that a little rain is not a welcome site, it is hard to have the sun leave us even if it is just for a few days.
With sharp drops in sales of existing and new homes being broadcast in the newspaper and leading the nightly newscasts, it's it's hard to keep a positive perspective about the housing market.
A surprising 27 percent decline in resales from June to July, and a 12 percent drop in sales of newly-built houses during the same period have done very little to build consumer confidence in the market.
Even with this news there are some positive things starting to happen in the national housing market. Housing affordability is at or near an all time high. This has been created by the lower home prices and mortgage interest rates for thirty year fixed mortgages in the mid 4% range. Right now 72 .3 percent of median-income American families can now afford to buy the median-priced house. Historically that number has stayed in the low 60 percent range, and sometimes slipped below 50 percent. But the problem remains that even with the affordability factor being so great, consumers are holding back. The overall lack of confidence is the reason and the employment figures just fuel the lack of confidence. Look for a sharp rebound in the market when employment numbers begin increase and buyer confidence returns.
We were all warned that there would be a sharp drop off in home sales following the tax credit. We are witnessing what was predicted. The good news is that the lull could be short lived.
Have an Awesome Week!
THIS WEEKS HOT HOME LISTING!
3835 E Street

| | | | |
| --- | --- | --- | --- |
| Price: $139,900 | Beds: 3.00 | Baths: 1 | Sq Ft: 1200 |

Wonderfully updated home with Hardie-plank siding, granite countertops, new appliances, new carpet, fresh paint, and new fixtures. W/ a vaulted living room, light & bright kitchen and dining room set on a fun floor plan, a welcoming front porch, gre...


AND HERE'S YOUR MONDAY MORNING COFFEE!!

Sincerely,
Galand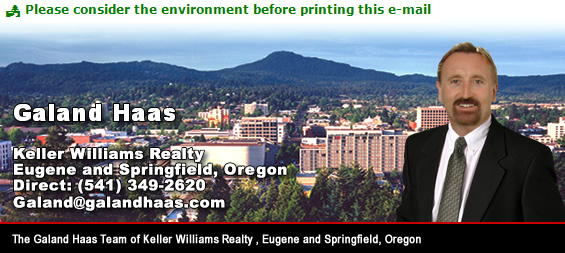 Galand Haas, Keller Williams Realty Eugene and Springfield
2644 Suzanne Way, Eugene OR 97408
Direct: (541) 349-2620