80% of U.S. Home Buyers Searched For New Home Online
Tuesday, August 31, 2010
Hot weather has returned to the Eugene and Springfield area. Hold on it could get near 100 degrees today. Stay cool and enjoy!
It is true, over 80% of home buyers in the country began their home home search online last year. This is a significant number and yet the majority of the Real Estate agents continue to market homes with traditional methods that do not tap into this huge pool of prospective home buyers. Today's technology allows agents easy access to the internet, yet few have learned the secrets that will truly give them access to the home buying public. As I look around the Eugene and Springfield market area I see very few agents marketing homes in any other way than the same methods that were employed a decade or more ago. The fact is that the purchasing habits of the consumer have changed and yet the industry that feeds potential home buyers their information lags painfully behind. This trend is certainly not going to change in the future. In fact new technology with video, etc. is going to attract even more potential home buyers to the internet for their home search.
My suggestion here is that if you are going to be selling a home, do your research. Find an agent who understands internet marketing and has taken the time to build the systems that will truly put your home in front of millions of potential buyers on the internet. Don't be fooled by the fact that some agents will try to convince you that traditional home marketing methods still work. The true fact is that the agent who can serve you best most likely is no longer using traditional marketing methods. The numbers tell the story. With 80%+ of all home buyers finding homes on the internet, if you want to sell in this market you need an expert who knows precisely how to tap into this growing buyer pool.
THIS WEEKS HOT HOME LISTING
1142 56th Street

| | | | |
| --- | --- | --- | --- |
| Price: $155,000 | Beds: 3.00 | Baths: 1 | Sq Ft: 1116 |

Very cute home with lots of updates including newer vinyl windows, newer oven with built-in microwave and newer counters. Inside also features a large living room, a space-efficient kitchen and well-separated family room with fireplace. All bedrooms...


AND HERE'S YOUR MONDAY MORNING COFFEE!!

Sincerely,
Galand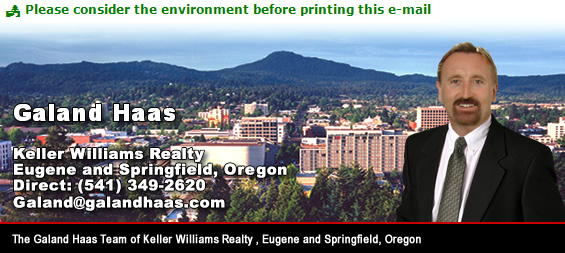 Galand Haas, Keller Williams Realty Eugene and Springfield
2644 Suzanne Way, Eugene OR 97408
Direct: (541) 349-2620