RMLS Most Available Data For This 2014 Reporting Period
FEBRUARY HIGHLIGHTS
January's increase in pending sales ushered in a rise in closed sales this February in Lane County. The 214 closed sales represented a 22.3% increase over the 175 closings from January, although the number is two less (-0.9%) than last February's 216. Pending sales (254) fell 12.4% from January's 290 and 24.4% when compared to last February's 336. New listings, at 351, fell on both counts as well—a 10.7% decrease compared to January's 393 and a 22.9% decrease compared to last February's 455. Overall, the year-to-date numbers for new listings, pending sales, and closed sales are slightly cooler than in 2013.
Total market time rose to 129 days in February, and inventory fell to 5.7 months.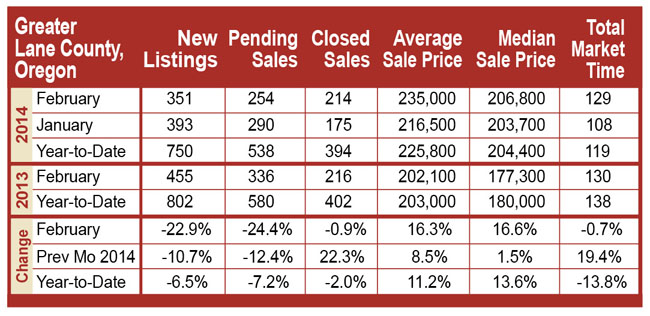 AVERAGE AND MEDIAN SALE PRICES
Prices are steadily rising in Lane County. Comparing the average price of homes in the twelve months ending February 28th of this year ($227,200) with homes sold in the twelve months ending February 2013 ($203,100) shows an increase of 11.9%. In the same comparison, the median has increased 13.8% from $180,000 to $204,900.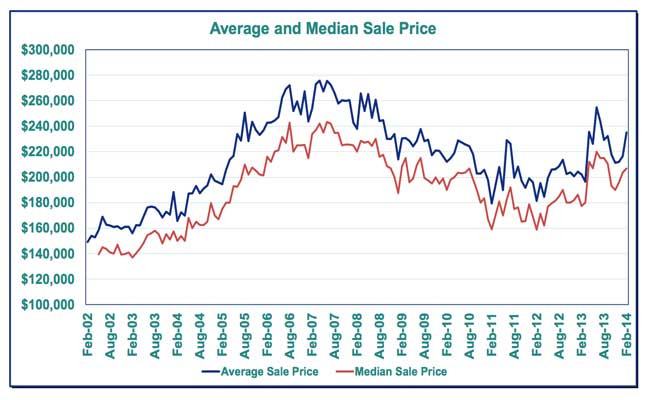 We Have Buyers Looking For These Homes
Ferry Street Bridge, North Gilham, Hayden Bridge, and Thurston
3+ bedrooms, 2+ baths, RV parking, priced up to $325,000
Springfield
3+ bedrooms, 2+ baths, 1+ car garage, priced up to $200,000
Pleasant Hill, Creswell, and Southwest Eugene
2+ acres, priced up to $400,000