RMLS Most Available Data For This 2014 Reporting Period
SEPTEMBER HIGHLIGHTS
Lane County saw plenty of pending sales again this September. The 351 pendings were a 12.9% increase from the 311 offers accepted last September, although were slightly cooler than last month's 423. Likewise, the 436 new listings bested September 2013 by 11.5% (391) but were slightly cooler than August's 575. Closed sales (349) cooled 1.4% from the 354 closings posted last September and 3.1% compared to last month, when there were 360.
Total market time in Lane County rose to 98 days and inventory decreased to 4.9 months in September.
YEAR-TO-DATE SUMMARY
In the first nine months of the year, new listings (4,908) and pending sales (3,143) have increased 4.0% and 0.7% over the same period in 2013. Closed sales (2,840) have decreased 3.8% from the same time last year.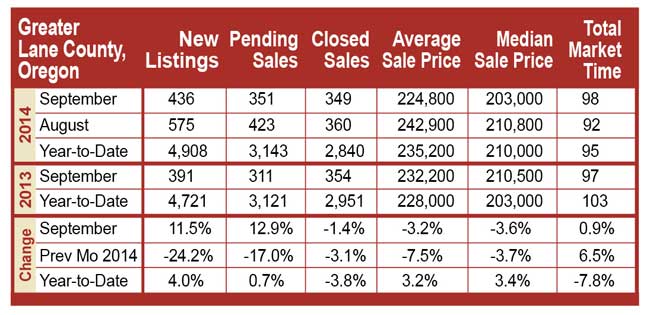 AVERAGE AND MEDIAN SALE PRICES
The average price during the first nine months of 2014 was $235,200, up 3.2% from the same period of 2013, when the average was $228,000. In the same comparison, the median has risen 3.4% from $203,000 to $210,000.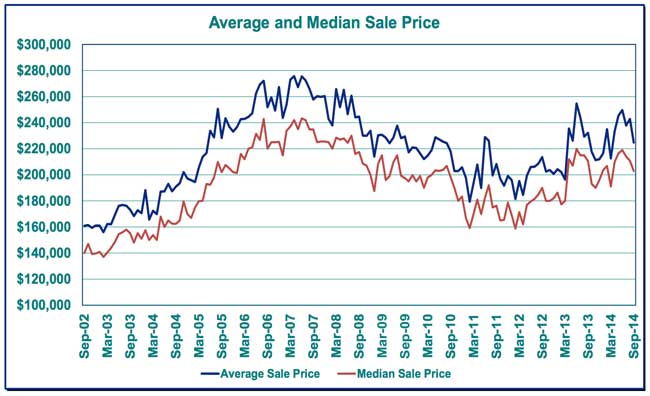 We Have Buyers Looking For These Homes
Santa Clara, Junction City, Alvadore, Veneta, Elmira
Home with 2+ acres, priced up to $325,000
Eugene and Springfield
Fixer, priced up to $150,000
Creswell, South Eugene, Southwest Eugene
Home with 5+ acres, priced up to $325,000