RMLS Most Available Data For This 2015 Reporting Period
JUNE HIGHLIGHTS
June was another great month for closed sales in Lane County. The 536 closings outpaced last month (411) by 30.4% and last June (389) by 37.8%. It was the strongest June for closings in Lane County on the RMLS™ record—the previous June record of 508 was tallied in 2004.
Pending sales (557) outpaced last June's 428 by 30.1% and edged out last month's 552 accepted offers by 0.9%. New listings (680) similarly outpaced last June's 641 by 6.1% and May 2015 (672) by 1.2%.
Inventory in Lane County decreased to 2.6 months in June. Total market time decreased to 73 days in the same period.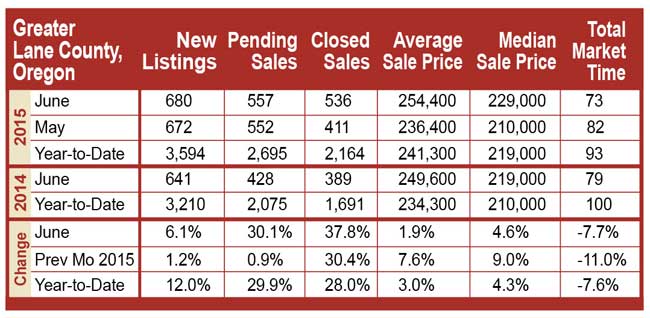 YEAR TO DATE SUMMARY
Activity is up during the first six months of this year compared to the same period last year. Pending sales (2,695) are up 29.9%, closed sales (2,164) are up 28.0%, and new listings (3,594) are up 12.0% this year compared to the first six months of 2014.
AVERAGE AND MEDIAN SALE PRICES
Comparing 2015 to 2014 through June of each year, the average sale price rose 3.0% from $234,300 to $241,300. In the same comparison, the median sale price rose 4.3% from $210,000 to $219,000.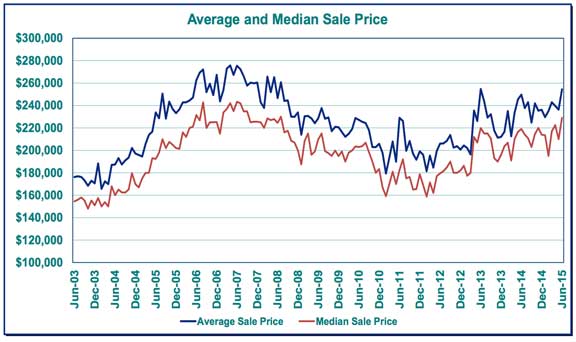 We Have Buyers Looking For These Homes
Ferry Street Bridge, North Gilham
3+ bedrooms, 2+bathrooms, 1500+ SF, priced up to $350,000
Eugene
Single level, newer home on small lot, priced up to $350,000
Ferry Street Bridge, North Gilham, Hayden Bridge
2+ bedrooms, 1200+ SF, priced up to $300,000