RMLS Most Available Data For This 2014 Reporting Period
JUNE HIGHLIGHTS
Closed sales had a strong month this June in Lane County! The 389 closings fared 3.7% better than the 375 closings posted last June, and 21.9% better than the 319 closings from just last month. It was the best June for closed sales in Lane County since 2007, when there were 454.
Pending sales, at 428, fared 21.2% better than last June's 353, but fell 7.2% from May. Similarly, new listings (641) fell slightly (-2.0%) compared to May's 654 but were 6.5% higher than the 602 new listings that went on the market in June 2013.
Total market time fell again to 79 days in June, and inventory fell slightly to 4.3 months.
YEAR-TO-DATE SUMMARY
Activity in June has bolstered Lane County's 2014 numbers compared to last year. New listings (3,210) and pending sales (2,075) have increased 2.9% and 0.7% over 2013. However, closed sales (1,691) have decreased 4.8% from the first half of last year.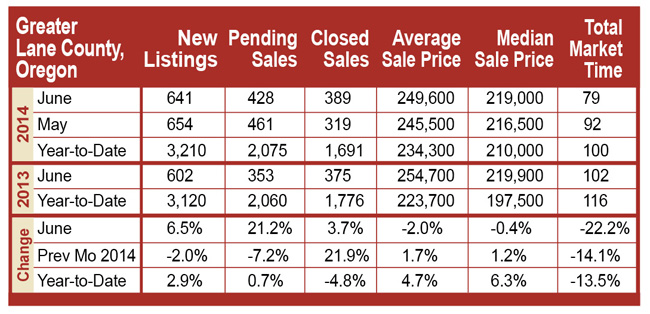 AVERAGE AND MEDIAN SALE PRICES
The average price during the first half of 2014 was $234,300, up 4.7% from the same period of 2013, when the average was $223,700. In the same comparison, the median has risen 6.3% from $197,500 to $210,000.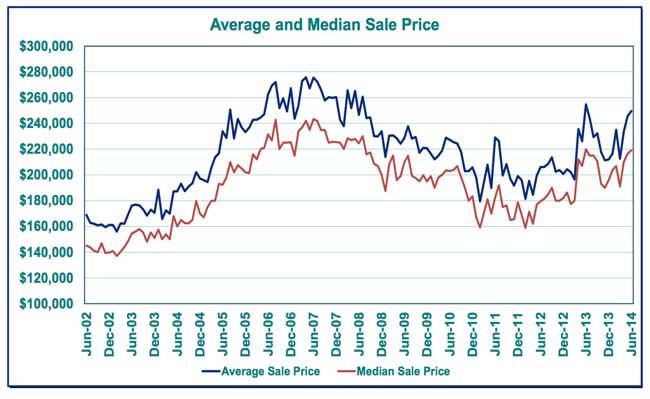 We Have Buyers Looking For These Homes
Creswell
Home with secluded 5+ acres, priced up to $400,000
Pleasant Hill
3+ bedrooms, 2+ baths, 1500+ sqft, priced up to $350,000
Friendly St Area/Southwest Eugene
2+ bedrooms, priced up to $250,000