RMLS Most Available Data For This 2014 Reporting Period
MAY HIGHLIGHTS
Lane County saw an upswing in seasonal activity this May. Pending sales, at 461, bested numbers from May 2013 (435) by 6.0% and the previous month (356) by 29.5%. New listings (654) increased 1.7% over the 643 listings posted in May 2013 and 10.1% over the 594 posted just last month. The 319 closed sales showed a 8.5% increase over April's 294 but were 10.6% less strong than the 357 closings entered in May 2013. Florence had 35 closings this month—the best May for closed sales in Florence on the RMLS™ record.
Total market time contracted to 92 days in May, and inventory remained at 4.9 months for the third consecutive month.
YEAR-TO-DATE SUMMARY
Lane County's real estate activity continues to be slightly cooler this year compared to 2013. New listings (2,557) have increased by 2.2% over 2013, but pending sales (1,659) and closed sales (1,287) have decreased 3.9% and 7.3%, respectively, from the first five months of 2013.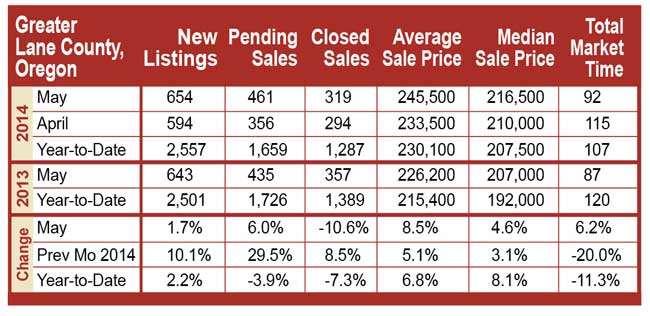 AVERAGE AND MEDIAN SALE PRICES
The average price so far in 2014 was $230,100, up 6.8% from the same period of 2013, when the average was $215,400. In the same comparison, the median has risen 8.1% from $192,000 to $207,500.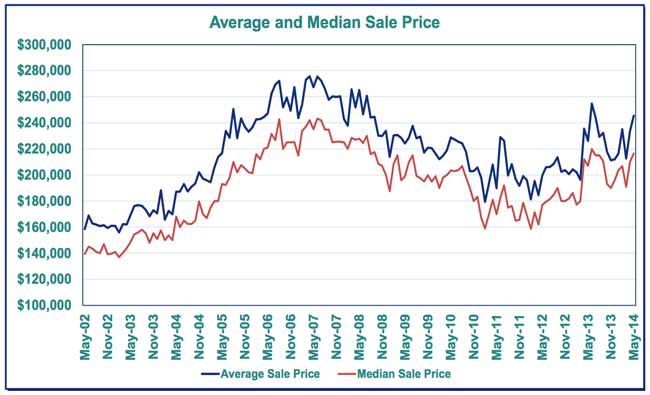 We Have Buyers Looking For These Homes
Campus Area/East Eugene
2+ bedrooms, within walking distance to U of O, priced up to $375,000
Bethel/Danebo
3+ bedrooms, 2+ baths, 1500+ sqft, priced up to $215,000