RMLS Most Available Data For This 2013 Reporting Period
OCTOBER HIGHLIGHTS

October continued seeing seasonal cooling to real estate activity in Lane County, but the numbers are strong when compared to last October. New listings (370) decreased 5.4% from the 391 in September, but show an increase of 14.2% compared to the 324 listings from October 2012. Similarly, closed sales (303) dropped when compared to the 354 in September, but have increased 6.3% over the 285 closings from last October. Accepted offers, at 295, are down 5.1% when compared to September's 311, but also down 9.5% compared to the 326 from October 2012.
Total market time increased by a week to 104 days in October, and inventory increased to 5.2 months.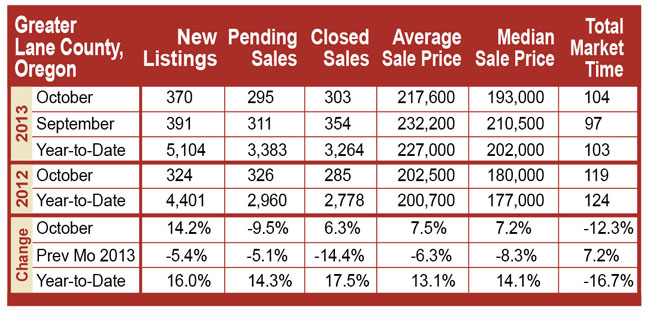 YEAR TO DATE SUMMARY

The 5,104 new listings represent a 16.0% increase over the 4,401 entered in the first ten months of 2012. There have been 3,383 pending and 3,264 closed sales through October 2013, up 14.3% and 17.5%, respectively, from 2,960 pendings and 2,778 closed sales by October 2012.
AVERAGE AND MEDIAN SALE PRICES

The average price through October is $227,000, up 13.1% from this time in 2012, when the average was $200,700. In the same comparison, the median price increased 14.1% from $177,000 last year to $202,000 this year.