RMLS Most Available Data For This 2014 Reporting Period
OCTOBER HIGHLIGHTS
October brought an uptick in closed sales to Lane County! The 404 closings represented 15.8% increase over September's 349 and a 33.3% increase over last October's 303. It was the best October for closings in Lane County since 2005, when there were 455. Pending sales (370) were also strong this month, a 5.4% increase from September's 351 and 25.4% increase from last October's accepted offers. New listings, at 394, cooled 9.6% from September's 436 but fared 6.5% better than the 370 new listings posted last October
Inventory contracted to 3.8 months in October, and total market time decreased to 88 days.
YEAR-TO-DATE SUMMARY
Lane County has nearly caught up to its 2013 activity. In the first ten months of the year, new listings (5,308) and pending sales (3,504) have increased 4.0% and 3.6% over the same period in 2013. Closed sales (3,259) have decreased 0.2% from the same time last year.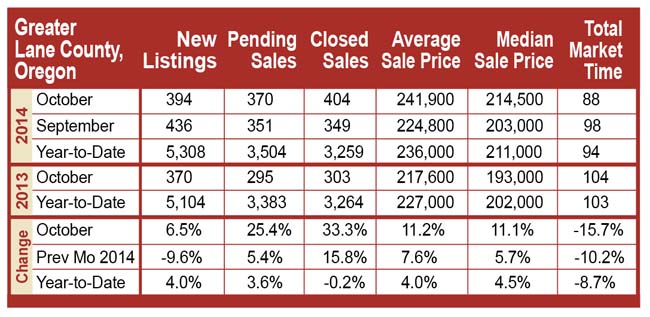 AVERAGE AND MEDIAN SALE PRICES
The average price during the first ten months of 2014 was $236,000, up 4.0% from the same period of 2013, when the average was $227,000. In the same comparison, the median has risen 4.5% from $202,000 to $211,000.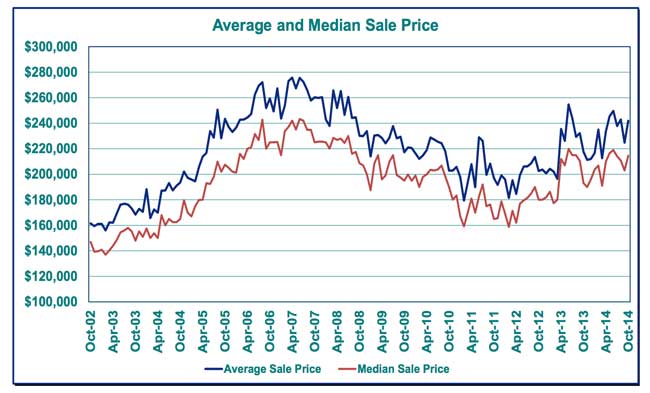 We Have Buyers Looking For These Homes
Hayden Bridge
4+ bedrooms, priced up to $200,000
McKenzie River Valley
Riverfront property, priced up to $1,200,000
Santa Clara, Junction City
Newer, 3+ bedrooms, 2+ bathrooms, 1600+ SF, RV parking, priced up to $350,000