RMLS Most Available Data For This 2014 Reporting Period
NOVEMBER HIGHLIGHTS
Lane County saw some seasonal cooling this November, but measures are mostly strong compared to last November. Closed sales (253) show a 6.3% increase from last November (238) but decreased 37.4% from October (404). Similarly, pending sales (252) showed an edge (0.4%)over last November (251) but decreased 31.9% compared to accepted offers from October (370). New listings, at 256, were 4.8% lower than the 269 new listings from last November, and also decreased 35.0% when compared to October.
Inventory rose to 5.5 months in November, and total market time increased to 107 days.
YEAR-TO-DATE SUMMARY
Lane County has now surpassed its measures of 2013 activity. In the first eleven months of the year, new listings (5,575), pending sales (3,742) , and closed sales (3,520) have increased 3.7%, 3.7%, and 0.3%, respectively, over the same period in 2013.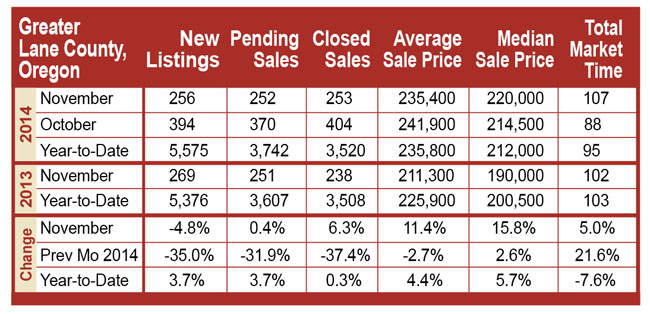 AVERAGE AND MEDIAN SALE PRICES
The average price during the first eleven months of 2014 was $235,800, up 4.4% from the same period of 2013, when the average was $225,900. In the same comparison, the median has risen 5.7% from $200,500 to $212,000.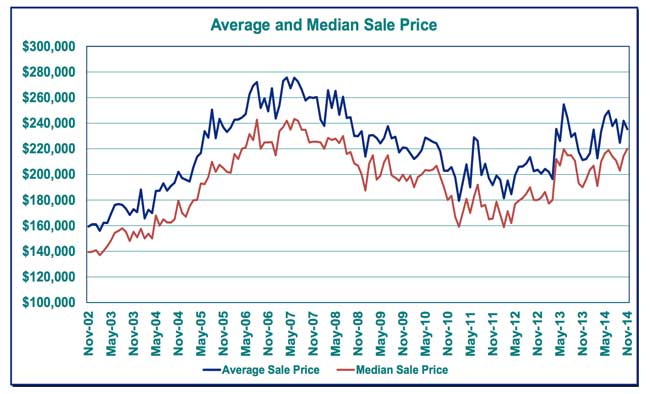 We Have Buyers Looking For These Homes
Ferry Street Bridge, North Gilham, Santa Clara, South Eugene
Single level or master bedroom on main level, 3+ bedrooms, office space, 2+ bathrooms, 1800+ SF, priced up to $380,000
Southwest Eugene, Southeast Eugene, Creswell
Home with 2+ acres, priced up to $350,000
Eugene, Springfield
Fixer priced up to $125,000