RMLS Most Available Data For This 2013 Reporting Period
JANUARY HIGHLIGHTS

January saw a healthy start to real estate activity in Lane County. Pending sales, at 260, were the best January since 2008, when 270 were entered. Accepted offers were 32% higher than December's 197. Closed sales fell slightly compared to both the previous January and the previous month. At 182, they were 8.1% lower than the 198 in January 2012 and 25.1% lower than December's 243.
New listings rebounded strongly from December with almost twice as many entered (334 vs. 180). However, they were slightly under new listings entered in January 2012 (375).
At 1,234, the active listing count is even lower than December, but the decrease in the number of closed sales has caused the inventory to rise slightly.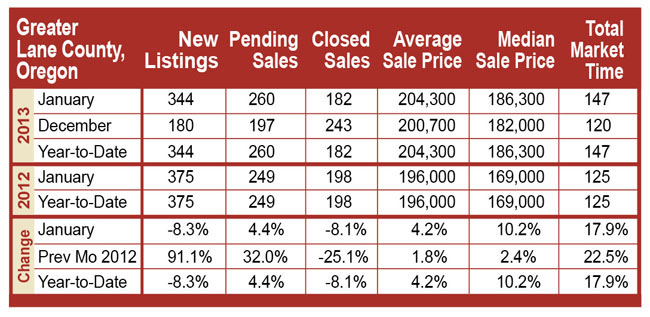 AVERAGE AND MEDIAN SALE PRICE

Prices appear to be rising in Lane County. The average sale price was $204,300, and the median sale price was $186,300. Comparing the average price of homes in the twelve months ending January 31st of this year ($201,600) with homes sold in the previous twelve months is virtually the same ($202,000). In the same comparison, the median has increased by 3.1% from $174,500 to $179,900.