National Real Estate Experts Say Bottom is a Long Ways Away!
Tuesday, August 31, 2010
Good Monday Morning!
After a week at a national Real Estate conference in Nashville, it's great to be back in Eugene. Just visit that part of the country this time of year and it really makes you appreciate Eugene and Springfield.
The overall opinion of the national Real Estate experts at this conference was that we are not even near bottom yet as far as home prices are concerned. Depending on where you are in the country, there could be 18 months to 3 years of decline yet to come. I would think that in our local market area we may fall somewhere in the middle of all of that decline. Needles to say though, another 10% to 15% decline in home prices in our market area is not out of the question. With that said, a healthy Real Estate market increases at a rate of 1% to 3% per year. Don't be shocked if it takes another 5-8 years for our home prices to rebound to where we are today.
This is why I get so upset when I watch fellow Real Estate agents over price homes in this market. It's not hard to understand that every day a home sits on the market for sale right now, it's value declines. By hitting the price to high, sellers lose value as their home sits on the market without selling. When they adjust the price down the road, it is often not enough and it is always to a point that is lower than if they would have received good honest advice in the first place and priced their home with the market. My caution here is that if you are going to sell a home in this market, do your home work and be cautious about the information you receive from your Real Estate agent. Always make sure that you pick an agent that has a good track record during this current market. If you have an agent tell you what you want to hear in regards to price and you follow this advice without research, you just might cost yourself many thousands of dollars.
Have An Awesome Week!
THIS WEEKS HOT HOME LISTING!
3114 Riverbend Avenue

| | | | |
| --- | --- | --- | --- |
| Price: $334,000 | Beds: 4.00 | Baths: 2 | Sq Ft: 2160 |

Beautiful, custom-built home w/ fantastic floor plan in quiet neighborhood. Featuring a vaulted living room w/ fireplace, open light & bright kitchen & dining area, huge, main-level master w/ bath w/ jet tub & WI closet & patio access, plus a large ...


AND HERE'S YOUR MONDAY MORNING COFFEE!!

Sincerely,
Galand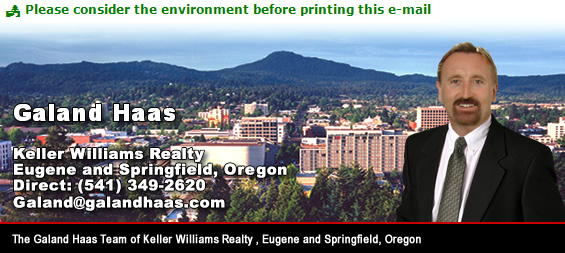 Galand Haas, Keller Williams Realty Eugene and Springfield
2644 Suzanne Way, Eugene OR 97408
Direct: (541) 349-2620