Number of Americans With Negative Equity Drops!
Tuesday, August 31, 2010
A smaller percentage of U.S. homeowners were saddled with "underwater mortgages" in the second quarter as more homes entered the foreclosure process even as price declines slowed, real estate Web site Zillow.com said on Monday.
Fewer homeowners with so-called underwater mortgages, where the amount owed on the mortgage exceeds the home's value, is nevertheless a positive for the housing market as it could portend fewer defaults and foreclosures down the road.
The percentage of American single-family homes with mortgages in negative equity fell to 21.5 percent in the second quarter from 23.3 percent in the first quarter and 23 percent a year ago, according to the Zillow Real Estate Market Reports.
These underwater mortgages are one of the biggest banes of homeowners since negative quity makes many of them unqualified for home loan refinancing and prevents some from selling.
It is too soon to say for sure, but this could be the first indication that the national home foreclosure rate is going to start slowing down. Another quarter of improvement will give us a better indication if this is an actual trend.
Have An Awesome Week!
3511 RIVER POINTE DR

| | | | |
| --- | --- | --- | --- |
| Price: $499,000 | Beds: 4.00 | Baths: 3 | Sq Ft: 3726 |

Large, goregous home with lots of room & lots of options set in a quiet neighborhood. Featuring a spacious living room, wonderful formal dining rm with French doors that open to patio, large kitchen with island, pantry, breakfast bar & nook. Open fa...


AND HERE'S YOUR MONDAY MORNING COFFEE!!

Sincerely,
Galand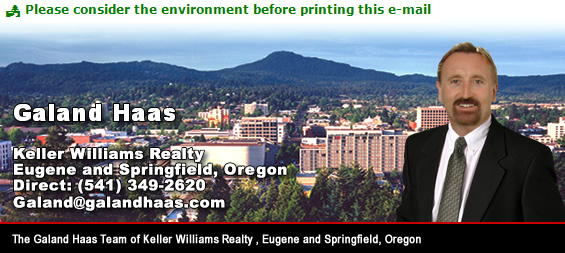 Galand Haas, Keller Williams Realty Eugene and Springfield
2644 Suzanne Way, Eugene OR 97408
Direct: (541) 349-2620