Latest Market Activity for December 2017
Monday, January 15, 2018
Good Monday Morning,
As you can see from the following statistics, the Real Estate market in the Eugene and Springfield area remains very strong. The largest obstacle at this time is that there is only 1.7 months of active inventory of homes for sale. This is critically low number and it is creating a shortage of affordable homes for would-be buyers. For anyone considering the sale of their home, there just could not be a better market. If you are considering the sale of your home, don't wait, get your home on the market "NOW" and take advantage of this very strong sellers market. Here are December's Lane County home sales numbers.
December Residential Highlights
Lane County saw increases across the board this December compared to 2016 despite some cooling from last month. New listings (223) ended 3.7% ahead of December 2016 (215) but fell 35.4% sort of the 345 new listings o ered last month in November 2017.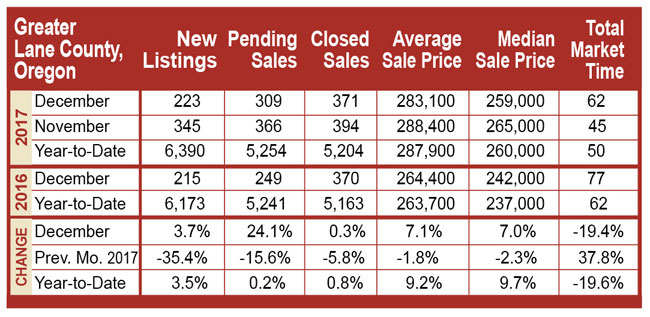 Pending sales (309) fared similarly, increasing 24.1% from the accepted o ers recorded in December 2016 (249) but falling 15.6% short of the 366 offers accepted last month in November 2017.
Closed sales (371) ended one ahead of the 370 sales recorded last year in December 2016 (0.3%) but were 5.8% short of the 394 closings recorded last month in November 2017.
Year to Date Summary
Activity ended slightly ahead in 2017 compared to 2016. Comparing the entirety of each year, new listings (6,390) increased 3.5%, closed sales (5,204) increased 0.8%, and pending sales (5,254) increased 0.2%.
Average and Median Sale Prices
Comparing all of 2017 to 2016, the average sale price rose 9.2% from $263,700 to $287,900. In the same comparison, the median sale price rose 9.7% from $237,000 to $260,000.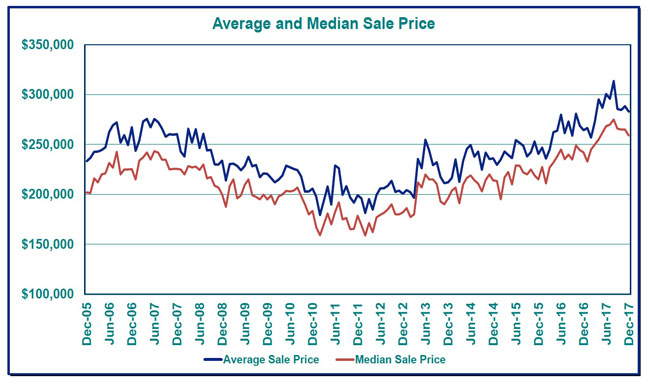 Have An Awesome Week!