8 Reasons to Divorce Your Home
Friday, October 17, 2014
It can be bittersweet to begin the selling process. Your home is where your life happens, where you have made memories over the years with family and friends. Perhaps now though, you are feeling as if your home has lost its spark. Maybe it's time to say goodbye.
How do you know when it's really over?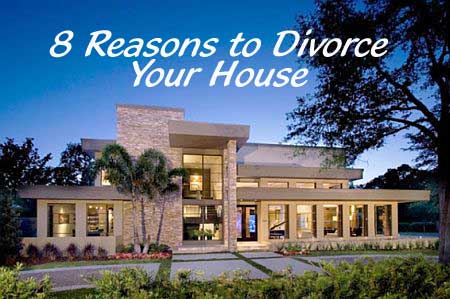 1. It doesn't help with the housework.
How are you supposed to keep the yard looking nice when the massive shade trees are starving the lawn? Or the two-story stone fireplace that used to be white is now more of a yellowy-beige?
Your house should be helping you out instead of making it more difficult.
2. It's in need of a makeover.
Broken down, randomly working dishwasher. Sticking doors. Warping floors. Sometimes it seems like the walls are actually rejecting paint. Is that even possible?
3. No matter how much you do for it, it's never enough.
As soon as you fix one thing, another one breaks. It's like it's trying to tell you something (It is; it's telling you to move!).
4. It doesn't make you feel sexy.
The shower water smells like dirt and it gets so humid in the bathroom it takes 30 minutes to clear the mirror. Even if you were feeling flirty, you couldn't get a good glance at yourself to make sure everything looks like it should.
Plus, you smell like mud, and that's a definite mood-killer.
5. It talks back.
If pipes that are way overdue to be replaced make embarrassing noises any time you flush or wash, you've got a back talker. And that's no good.
6. It's disrespectful.
The light in the living room flickers for no reason, no matter how many new bulbs you give it. Has it occurred to you it's just trying to get a look up your skirt?
7. All it does is sit around.
Those other houses do stuff. They turn on and off lights. They help you set the air conditioning. Considering it takes four hard slaps on the wall and a good stomp on the floor by the air conditioning unit just to make it pop on, this kind of upgrade may be out of the question. Or at least out of your budget.
8. You're drawn to another.
You're not a cheater. But you find yourself, well, looking at others lately. Driving down other streets and maybe lingering a little too long. Thinking about what life would be like if you lived there.
Maybe the grass really is greener.
And maybe your house would appreciate someone who appreciates it. Maybe it's just not that into you.
So cut it loose. Set it free. Set yourself free. Divorce that house. Your castle awaits.
Article originally written on RealtyTimes