University of Oregon
Thursday, May 19, 2011
Founded in 1876, the University of Oregon began with just one building (Deady Hall), 155 students, and five faculty members. The university is now the second oldest and second largest public research institution in the state of Oregon, and is the state's sole member of the elite Association of American Universities, a group of 60 top research universities across North America.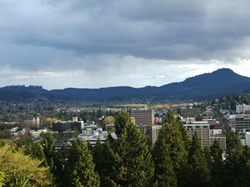 Located in lush Eugene, the campus is in a perfect spot between the Pacific Ocean and the Cascade Mountains which provides a wide variety of activities for the diverse population at the University of Oregon. Eugene offers all the benefits of a small city, but with easy access to all types of outdoor entertainment.

The university is divided up into eight schools and colleges including the School of Architecture and Allied Arts, College of Arts and Sciences, Charles H. Lundquist College of Business, College of Education, Robert D. Clark Honors College, School of Journalism and Communication, School of Law, and the School of Music and Dance. The most popular majors on campus are business administration, psychology, journalism, and political science.

Students at the University of Oregon are very involved both on campus and in the community. There are more than 250 student clubs on campus ranging from swing dancing to marketing. With two museums located directly on campus and several others around Eugene, arts and culture play a major role in student life. One major example is the School of Music's internationally known Oregon Bach Festival, a choral/orchestral festival the Wall Street Journal has called "one of the world's leading music festivals." The Bach Festival's long list of plaudits includes a Grammy award won in 2001.

Also important to University of Oregon students are its athletic teams; in the 2010 football season, the Ducks made it all the way to the National Championship game only to take home second place. Along with its accomplished football team, the University of Oregon boasts the nation's most famous track and field venue, Hayward Field, which is the home of its outstanding men's and women's track and field teams. The U of O also offers men's and women's basketball, cross country, golf and tennis teams, plus men's baseball, and women's softball, soccer, lacrosse, volleyball, and acrobatics & tumbling.

Today, more than 23,000 students from all 50 states, the District of Columbia, three U.S. territories, and 85 countries call the University of Oregon home.