Oregon Ducks Football - The pride of Eugene, Oregon
Tuesday, September 13, 2011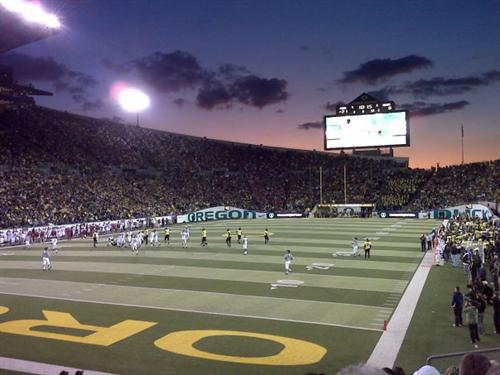 Since 1894, the University of Oregon's football program has been wowing fans, while providing plenty of life-long memories for Oregon Ducks supporters. Today, the high-flying Ducks are one of the fastest and most talented teams in college football, as they continually put up winning seasons and make prestigious bowl appearances. Their biggest achievement came last season, as the Ducks won all of their regular season games (12-0) and made their first ever appearance in the BCS National Championship Game. Although the game was lost in the final seconds to Auburn by a score of 22-19, the Ducks still were able to inspire a national audience by displaying their tenacity, resilience and heart.
This year the Ducks look to recreate the success of the past against a slew of tough foes in the Pacific-12 Conference. Oregon got off to a rough start, losing its season opener against LSU 40-27, but bounced back with a 69-20 win over Nevada. With 11 regular season games left, there is still plenty of time to make a run at another conference championship and bowl bid.
LaMichael James, one of the notable stars and leaders of this year's squad, is coming off an incredible 2010 campaign. Last year, he rushed for nearly 1,700 yards and scored 22 touchdowns, winning the Doak Walker Award as the nation's best running back and finishing third in voting for the Heisman Trophy. Autzen Stadium, located in Eugene, Oregon, and its almost 60,000 Ducks fans were roaring on September 10th as Oregon hosted its first home game of the season. Autzen, one of the loudest and most exciting places to watch a college football game, may make it hard for fans to hear their friends next to them, but they will be able to hear plenty of unified GO DUCKS chants from the faithful in yellow and green.