National Mortgage News 1/16/07
Tuesday, January 16, 2007


"DISAPPOINTMENT PROVES...THAT EXPECTATIONS WERE MISTAKEN." Mason Cooley And sure enough, the disappointing performance of Bond prices and home loan rates last week was largely the result of some unexpected news and data, which left home loan rates about .125% higher across the board.
Remember that "good" economic news tends to be "bad" for Bond prices and home loan rates for two reasons. First, because Stocks and Bonds compete for the same investor dollar - and good economic news would cause many investors to pull money out of Bonds and place it into Stocks, which generally benefit from a healthy economy. Second, good news for the US economy can also mean inflation, which is the arch-enemy of Bond prices and home loan rates, since inflation erodes the true value of a fixed return such as a Bond provides.
So back to the news - unexpectedly positive news for the housing sector arrived in the form of the Mortgage Applications Index, showing the largest percentage increases in home loan applications for purchasing and refinancing since the middle of 2005. Why was this bad news for Bonds and home loan rates? Because Bonds react poorly to potentially inflationary news, and the increase in home loan applications point to a healthier housing sector and economy - which could lead to inflation. But the real good news is that this also indicates that home loan rates are favorable, and most markets are stabilizing in terms of home values. In fact, many experts feel that August of 2006 was the bottom for the housing market. So if you have been thinking about investigating a purchase or refinance, now may be the time - give me a call or email and let me know how I can help.
More hot economic news - Retail Sales in general were on fire, and when factoring out vehicle purchases, it was the best number in over a year. Again, more good economic news, but not good for Bond prices or home loan rates.
As if that weren't enough, another unexpected event arrived when the Bank of England (like our Federal Reserve Bank) surprised international financial markets by raising its benchmark interest rate (like our Fed Funds Rate) by .25%, sparking a sharp drop in their markets as investors became rattled. The sharp sell-off in Great Britain quickly spilled over to the US, as their rates are on par with ours, and will now become more competitive investments as compared to our own US Bonds.
HERE'S SOME MORE GOOD NEWS - IT'S TAX TIME! OH...YOU MEAN YOU DON'T ENJOY GATHERING ALL YOUR FINANCIAL AND TAX DOCUMENTS? OK, MOST PEOPLE DON'T - BUT THE TIPS FOUND IN THIS WEEK'S MORTGAGE MARKET VIEW WILL HELP YOU GET THROUGH THE PROCESS QUICKLY AND EFFICIENTLY, AND GET TO THE REAL GOOD NEWS - A COMPLETED 2006 TAX RETURN.
Forecast for the Week


"I'VE FALLEN...AND I CAN'T GET UP!" (Bond prices, last week) And when Bond prices fall, home loan rates are on the rise. But could Bonds get to their feet this week and help home loan rates improve? This coming week will certainly provide some "juice" to trade on, and likely cause some motion - but the direction of that movement will fully depend on the flavor of the news.
Remember that Bonds and home loan rates hate inflation...and some big inflation news is in store with the Producer Price Index (PPI) on Wednesday and the Consumer Price Index (CPI) on Thursday. There will also be news from the Manufacturing sector sprinkled throughout the week, and Housing will gain some attention on Thursday with the latest Housing Starts and Building Permits data. If the economic data comes in suggesting a slower economy and lower inflation, Bonds will likely regain their legs and help home loan rates improve. But if the news has that familiar scent of inflation...Bond prices will head lower and home loan rates will worsen.
The chart below shows the "floors" that can help to support Bonds from falling too far down on Bond and home loan rate unfriendly news...but also shows that Bond pricing fell right through two floors last week, causing home loan rates to rise.
Chart: Fannie Mae 5.5% Mortgage Bond (Friday Jan 12, 2007)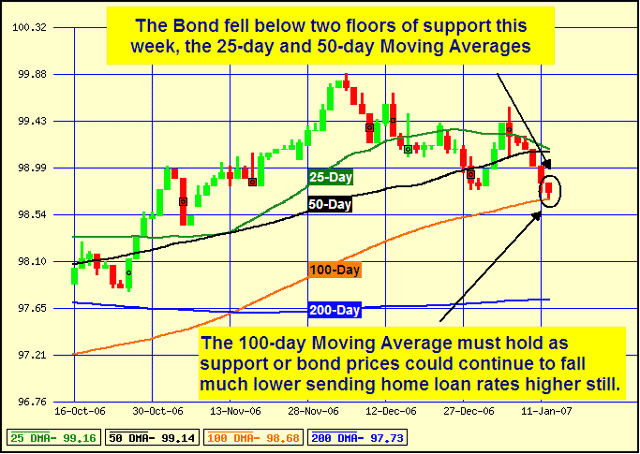 The Mortgage Market View...


THE TAX MAN COMETH
It's that time again...time to start gathering all of that dreaded documentation for your tax preparer to send to good old Uncle Sam! And even though this may seem like a very painful process, taking just a few simple steps right now will make your tax planning far less painful than you think.
STEP ONE: Start by reviewing a copy of last year's tax return, and make a quick list of all the documents or statements that were needed to complete the return. Examples would be W2 forms from employers, 1099 forms for income earned but with no withholding for taxes, 1098 forms documenting all interest paid on a mortgage, interest and dividend income from banks and other financial institutions, a statement for stocks and bonds that were sold during the year, donations that were made to charities, and property tax statements. Many tax accountants will provide a checklist for you, but if you do not have access to one, simply hit this hotlink: TAX PREP CHECKLIST and use this generic checklist as a guide.
STEP TWO: In the coming weeks, you'll be receiving tax documents in the mail. Some will be easy to identify, as many institutions use envelopes marked "Important Tax Document", but others do not - so check all your incoming mail very carefully. When a tax document arrives, grab your checklist, mark the item as received, and keep it all in one place like a file or large envelope marked "2006 TAXES". That way, when it is time to meet with your accountant, all documents will be stored in one location.
NOTE: the IRS rules require that most tax documentation like W2's be mailed out to you by January 31st. If you do not receive all needed tax documentation by February 15th, contact the company that was supposed to send it out, and request the documentation be mailed immediately. If the company fails to comply, contact the IRS at 1-800-829-1040 for help. Additionally, if a statement is received and the amount reported appears to be incorrect, contact the company who sent it to you right away, and ask that the form be corrected. Within a few days a new form should be mailed, and when received it will be marked "Corrected".
With the tax laws constantly changing and the complexity of filing taxes increasing every day...having a great tax accountant will save you time and money. In fact, most tax accountants find enough missed deductions or changes to more than cover their nominal fees. And, working with a professional can help ensure that your return is as accurate as possible, and may help avoid a painful audit. During 2006, audits for individuals increased by 6% across the board. Business owners need to be on their toes too, as audits for Partnerships increased by 15%, and S-Corporations by 34%!
It pays to invest in working with a tax professional. If you are in need of a referral, contact me - I'd be happy to help provide one to you.
The Week's Economic Indicator Calendar


Remember, as a general rule, weaker than expected economic data is good for rates, while positive data causes rates to rise.
Economic Calendar for the Week of January 15 – January 19
| | | | | | | | |
| --- | --- | --- | --- | --- | --- | --- | --- |
| Date | ET | Economic Report | For | Estimate | Actual | Prior | Impact |
| Tue. January 16 | 08:30 | Empire State Index | Dec | 20.0 | | 23.1 | Moderate |
| Wed. January 17 | 08:30 | Core Producer Price Index (PPI) | Dec | 0.1% | | 1.3% | HIGH |
| Wed. January 17 | 08:30 | Producer Price Index (PPI) | Dec | 0.6% | | 2.0% | Moderate |
| Wed. January 17 | 09:15 | Capacity Utilization | Dec | 81.8% | | 81.8% | Moderate |
| Wed. January 17 | 09:15 | Industrial Production | Dec | 0.1% | | 0.2% | Moderate |
| Wed. January 17 | 10:30 | Crude Inventories | 1/12 | NA | | -4990K | Moderate |
| Wed. January 17 | 02:00 | Beige Book | | | | | Moderate |
| Thu. January 18 | 08:30 | Building Permits | Dec | 1510K | | 1513K | Moderate |
| Thu. January 18 | 08:30 | Housing Starts | Dec | 1575K | | 1588K | Moderate |
| Thu. January 18 | 08:30 | Consumer Price Index (CPI) | Dec | 0.5% | | 0.0% | HIGH |
| Thu. January 18 | 08:30 | Core Consumer Price Index (CPI) | Dec | 0.2% | | 0.0% | Moderate |
| Thu. January 18 | 08:15 | Jobless Claims (Initial) | 1/12 | 315K | | 299K | Moderate |
| Thu. January 18 | 10:00 | Index of Leading Econ Ind (LEI) | Dec | 0.2% | | 0.1% | Low |
| Thu. January 18 | 12:00 | Philadelphia Fed Index | Dec | 3.0 | | -4.3 | HIGH |
| Fri. January 19 | 10:00 | Consumer Sentiment Index (UoM) | Jan | 92.0 | | 91.7 | Moderate |
The material contained in this newsletter has been prepared by an independent third-party provider. The content is provided for use by real estate, financial services and other professionals only and is not intended for consumer distribution. The material provided is for informational and educational purposes only and should not be construed as investment and/or mortgage advice. Although the material is deemed to be accurate and reliable, there is no guarantee it is not without errors.