Friday, November 21, 2014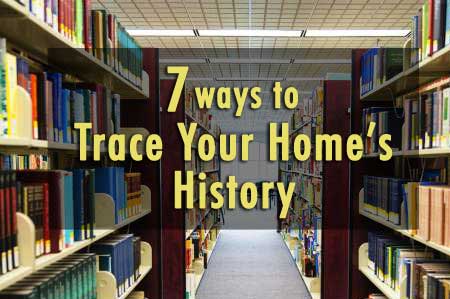 Have you ever wondered about your home's history?
Most owners of older homes eventually come to terms with the fact that they will never know everything about their property. If the last set of homeowners didn't share much about the origin of your house, who else is there to ask? Details like the year it was built, its initial layout, and the original occupants can always feel just out of reach. Fortunately for the curious homeowner, answers are easier to come by than you may think. Check out these seven sources for the extra insight to help you uncover the story behind your own home.
VISIT THE TAX ASSESSOR
Start with the tax records. Assuming they've been conscientiously maintained, these will list every owner of the land on which your house sits, along with the assessed property value from year to year. Spot a sudden jump in valuation? That suggests the construction of a new home (likely yours) or the completion of a substantial addition or renovation. Copy the date down to review against additional research.
STOP BY YOUR COUNYT CLERK'S OFFICE
Next, you're interested in three files at the county clerk's office: the Registrar of Deeds, the tract index, and the grantor-grantee index. These offer a comprehensive listing of all transactions that have involved your lot, including names and dates of previous owners, as well as the salient details of any lawsuits or liens filed over the years.
FIND YOUR LOCAL BUILDING INSPECTOR
Also ask your local building inspector to see any building permit applications associated with your street address. Required for most new construction and remodeling, these documents may reward you with information about any major changes that have been made to the structure. Compare these with the other dates you've accrued, and use them to narrow your scope when researching community documents.
CHECK OUT COMMUNITY LIBRARIES
Many libraries devote sections to local history, archiving historical maps, original building plans, and even old photographs. Scour the real estate listings in decades-old newspapers around the time you believe the property was built for stories mentioning your address, and consult the census records for your area.
INVESTIGATE THE MATERIALS USED
Your home's materials speak volumes about when it was constructed—so long as your home has not been completely renovated. For example, asphalt tile flooring exploded into popularity around 1920, but had been virtually forgotten by 1960. One handy trick: If at least one of your bathrooms still has the original fixtures, you can usually find a manufacturing date stamped on the underside of the toilet tank cover!
REVIEW FIRE INSURANCE MAPS
Fire insurance maps are yet another source of trustworthy particulars. These maps, which in many cases date back to the 1870s, can help you determine the framing, flooring, and roofing materials used in the initial construction of your home—knowledge that helped early insurance agents determine the degree of fire hazards of any particular property.
INSPECT YOUR HOME'S STYLE
Finally, know that, like any trend, the popularity of certain architectural style waxes and wanes. Use your knowledge of these to determine when your own home was built. Italianate style was an 1850s favorite; Colonial Revival was all the rage in the 1890s; and by the 1900s, Craftsman-style houses had started cropping up everywhere. Not sure where to begin researching? You can always consult a professional architectural investigator for help.
Article originally posted on www.msn.com