Junction City, OR Real Estate and Community Info. | The Galand Haas Team, your Junction City, OR real estate specialist
Junction City, Oregon Real Estate and Community Info.
Junction City, Oregon
Real Estate For Sale
Junction City, Oregon, located about 10 miles from Eugene, is home to rich Northwest history, outdoor recreation, fun local events and an unmatched quality of life. Junction City claims just under 5,500 residents and a growing business community fueled by agriculture and farming. A quaint downtown district, quality public schools and low crime rates are just some of what comes with valuable Junction City real estate. The city is also renowned for its Scandinavian Festival, which is held every August and celebrates the cultures of Norway, Denmark, Sweden, Iceland, and Finland.
Shopping and Dining
Junction City is filled with quality, family-owned specialty shops such as Junction City Farm and Garden and Lingo's Sheepbarn Antiques. With Eugene close by, Junction City residents have access to many larger retail outlets and shopping malls as well. Junction City is known for its selection of family farms, which sell some of the finest and freshest local produce and meats available anywhere. If you are concerned with sustainability and finding locally-grown organic goods, then Junction City is the place for you. The area's local farm products can be found in numerous near-by restaurants and stores including the Rodeo Steak House and Grill right here in Junction City.
Parks and Recreation
Although Junction City is a smaller town, it still boasts several local events and provides enough recreation to keep residents quite busy. One of the most notable is the Scandinavian Festival, which had its 51st running in August 2011. Each day's activities are themed around one of the celebrated countries. Traditional Scandinavian dances and music performances are presented on three stages throughout the venue. Visitors also enjoy browsing unique handcrafted art and jewelry while sampling authentic Scandinavian cuisine. When the Scandinavian Festival isn't in full swing, Junction City's beautiful outdoor parks offer residents a place to reflect and relax. And of course, no city tour would be complete without a stop to Fiddler's Green, home to an 18-hole executive course and the largest on-course golf shop in America.
Junction City, Oregon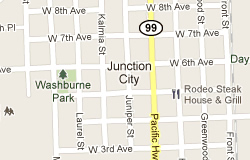 Living
With its close proximity to the Eugene-Springfield area and its strong local economy, Junction City real estate is highly sought after by those looking for a home in Lane County. Junction City real estate has a diverse selection of homes for sale, with everything from larger country estates to condos and smaller single-family developments. Junction City is one of the fastest growing communities in the area, with ample options in every price range.
Schools, Health and Transportation
The Junction City School District serves the area and consists of four schools; two elementary schools, one middle school and one high school. Junction City High School is known for its high quality curriculum and outstanding graduation rates. In 2008, the school graduated 88% of its senior class.
Several quality health facilities and hospitals are close by in Eugene and Springfield, the nearest of which is within 15 miles of Junction City. Sacred Heart Medical Center-University District, located on the University of Oregon campus, is only 13 miles from Junction City. This facility is mainly a services-oriented hospital, but also operates a 24 hour emergency room, so Junction City residents have ready access to immediate health care.
Junction City's location along US Route 99 makes transportation to the Eugene-Springfield area convenient and simple. The Lane Transit District provides public transportation routes connecting Junction City with its neighboring communities. Need to catch a plane? No problem, there are two private airports in Junction City, and public travel is available close-to-hand at the Eugene Airport, the second busiest airport in the state.
Presented by Galand Haas and The Galand Haas Team. If you are thinking about buying or selling a home, give us a call at (541) 349-2620 or send us an email to explore your options and to find out when is the best time for you to make a move.