Creswell, OR Real Estate and Community Info. | The Galand Haas Team, your Creswell, OR real estate specialist
Creswell, Oregon Real Estate and Community Info
Creswell, Oregon
Real Estate For Sale
Creswell, Oregon, nestled just ten miles south of Eugene, is a small (just over 5,000 residents), but ever-expanding city. Creswell's location, close to one of the state's largest cities and near Highway 99 and Interstate 5, has helped its community and local economy grow.
Real estate in Creswell has become highly desired for its progressive commercial and residential areas, its quality public schools and its quaint way of life. It is known to many as "The Friendly City" and no matter how fast the city grows, that moniker will always ring true with its residents.
Shopping and Dining
Although the variety of stores available in Creswell may be limited, residents will have no problem getting the essentials from the local grocery store, Ray's Food Place. And one won't have to go far to find great bargains on brand name products and apparel. The Valley River Center in Eugene, Oregon and the Gateway Mall in Springfield, Oregon boast plenty of favorites like Buckle, American Eagle Outfitters and Hollister Co., as well as jewelry stores, game stores and more. Shoppers will also find all that they need in Eugene's eclectic mix of stores in its unique downtown area.
We all know running around town can work up an appetite and there's no better way to satisfy it than at some of the many fabulous eateries of Creswell and Eugene. Whether residents are looking for an exotic meal, a filling breakfast or a fast snack, Creswell's restaurants have it covered. Some of the highly reviewed restaurants in Creswell include TJ's Family Restaurant & Lounge and Los Cabos Mexican Restaurant.
Parks and Recreation
Creswell may be small in terms of its land mass and population, but its recreation could only be described as big fun. Everyday leisures range from golfing and taking a walk in the park, to the more adventurous activity of skydiving at the local airfield. Emerald Valley Golf and Resort is Creswell's premier spot for recreation. Residents and visitors alike will enjoy the par 72 championship level course as well as a delicious meal at the Back Nine Bar and Grill. Out-of-town guests can stay at the Comfort Inn and Suites to get the maximum enjoyment out of the location. For those looking to buy a home in Creswell that don't golf, there's still plenty to do outdoors. Creswell features a wonderful park, which offers basketball courts, tennis courts, playgrounds and more. Relax on the dock at the Creswell ponds or throw your line in the water and fish.
Creswell, Oregon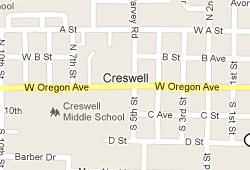 Living
Purchasing Creswell Oregon real estate will not only give homebuyers a beautiful residence in an ideal location, but will also introduce them to a progressive and tight-knit community. Creswell is a city that stays connected as much as it looks to grow. With community newsletters, local events such as farmer's markets and quality city services, it's easy to see why so many consider Creswell to be "The Friendly City". Creswell's Community Development Department focuses on improving Creswell's residential and commercial properties to attract new homebuyers and businesses to the area and build a path to a brighter future for the city. In an expanding area like Creswell, there are a multitude of new and classic developments to choose from. Single-family homes are common, but there are also larger, more luxurious homes available as well.
Schools, Health and Transportation
Creswell is served by the Creswell School District, which consists of three schools; one elementary, one middle and one high school. Creswell is known for its quality public schools, most notably Creswell High School, which graduated 95% of its seniors in 2009. Creswell Middle School was built in 2008 and boasts modern, state-of-the-art features.

There are several major hospitals in nearby Springfield, Eugene and Cottage Grove that provide emergency services. Sacred Heart Medical Center at Riverbend and McKenzie-Willamette Medical Center are the closest, at ten miles from Creswell, and Cottage Grove Community Hospital is only 11 miles to the south. When an emergency occurs, Creswell residents will be close to help in every direction.

Creswell real estate's location, along I-5, makes getting to neighboring cities fast and easy. Residents can also get to Eugene and Cottage Grove via the Lane Transit District buses. Creswell has its own airport as well, Hobby Field, which is one of the state's busiest general aviation airports.
Presented by Galand Haas and The Galand Haas Team. If you are thinking about buying or selling a home, give us a call at (541) 349-2620 or send us an email to explore your options and to find out when is the best time for you to make a move.