Santa Clara Eugene Oregon Real Estate
Santa Clara Eugene Oregon Real Estate
The Santa Clara neighborhood in Eugene Oregon offers residents several real estate options, from established neighborhoods to new construction. Annexed by the City of Eugene Oregon in the mid 2000's, Santa Clara borders the River Road community at Beltline Drive to the south, and stretches north to Beacon Road.
Santa Clara connects Eugene with its Junction City neighbors and farms to the north, offering some of the freshest produce in the area. Lone Pine Farms features fresh fruits and vegetables at the Lone Pine Market, just north of the Santa Clara on River Road. The farm is perhaps best known for its fall harvest attractions, including wagon rides to the pumpkin patch and their popular corn maze.
Golfers can get out on the fairways at a few different courses in the area. Shadow Hills Country Club is a private course located a few miles from Santa Clara, and plays host to the Nationwide PGA Tour's Oregon Classic. Fiddler's Green and Eugene Eagles #275 FOE – two of the smaller golf courses in the Eugene and Junction City area – offer golfers a quick and inexpensive way to enjoy the sport. The Fiddler's Green Pro Shop bills itself as the largest on-course golf pro shop in America!
People love the Santa Clara area for its comfortable pace, friendly neighbors, and proximity to Eugene's major attractions and services.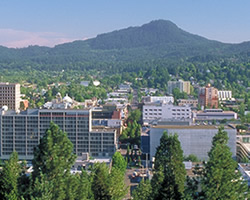 Santa Clara Real Estate For Sale